HAPPY Training Video: Attitude & Approach
The low-income and homeless population we are striving to serve face many barriers to care. To bring about effective and lasting changes, we must be patient, persistent, and committed to our cause. We cannot expect instant improvement. Rather, by staying committed, we should work hard to bring more and more under-served community members back to the health care system. This requires all HAPPY volunteers be committed to our service initiative and attend all screening shifts responsibly. Through witnessing the amount of impact you can make for the community, you will mostly gratified by your hard work. We are certain that volunteering for HAPPY will be a richly rewarding and educating experience for you.  
  
Below is a summary of suggestions given by Ronald 'Ron' Dunhill. Ron is a nurse practitioner of Cornell Scott-Hill Health Center and an extremely helpful and resourceful adviser to HAPPY. Ron has over 10 years of experience of working with the low-income and homeless community in New Haven.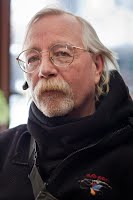 Ronald 'Ron' Dunhill
Highlights from discussion with Ronald Dunhill Community Soup Kitchen
11/17/10 Written by Caroline Dewing              
During the final few minutes of our visit to Community Soup Kitchen on November 17th, Ronald 'Ron' Dunhill, a nurse practitioner of Cornell Scott-Hill Health Center, sat down with Jared Shenson, Tony Su, and Caroline Dewing to discuss hypertension and his experiences with those people of the New Haven community with whom he works and HAPPY volunteers will interact.  Initially, he reminded us that the greatest risk of sustained hypertension is a stroke.  He credited the prevalence of hypertension in the community to the sustained use of alcohol, cigarettes, and drugs.  He went on to explain why he thinks he has been successful.  Over the years, he has been willing to help anyone, regardless of the circumstances, person's history, or time of day.  He believes that it has been his nonjudgmental, habitual presence that has led to his positive relationships with the people of New Haven.            
While he admits that he sometimes lapses into 'street talk,' he recommends that us volunteers remain professional in speech, dress, and demeanor at all times.  Our professionalism will result in greater trust and respect from our community members.  Along the same lines, he recommends that we identify and establish our boundaries.  The people with whom we will work may consciously or subconsciously push our boundaries, physically or verbally.  He wants to ensure that we do only what we are comfortable with.             
When asked about the most effective way to interact with community members, Ron said that we should be informative but not pushy.  Many community members are apathetic when told that their hypertension is so severe that they could die at any moment.  A man in his forties told Jared and Caroline, "I've lived long enough.  I can go any time now."  Ron said that volunteers will encounter many community members with that mindset and, hence, will be resistant to treatment.  Other community members will not go see professional physicians because they feel doctors are useless and unhelpful.  Ron suggested that we offer community members the resources and information to improve their health.  We cannot force them to do anything.  Community members will come to respect us in our roles as friendly, knowledgeable advocates.